KAGRA Scientific Congress (KSC)
---
Committees / Working Groups / completed committees / Organization Chart
Rules and Regulations / Documents / Newsletter / Links / KSC members
List of collaboration open data
---
Objectives of KSC
KAGRA Scientific Congress (KSC) is the decision making body of KAGRA collaborators. The aims of KSC are to discuss and to make decisions upon KAGRA science.

(1) Scientific targets pursued by the collaboration.
(2) Recommend/Endorse scientific direction and strategy of KAGRA
(3) Strategies of R&D and data analysis

In addition, KSC manage and maintain the collaboration itself.

(4) Maintenance of the collaborator-list
(5) Maintenance of the author-list
(6) Holding the KAGRA face-to-face meeting
---
KSC board
Current (August 2018 - Aug 2019 )


Hisaaki Shinkai (Chair), Chunglee Kim (Vice Chair), Sadakazu Haino, Yuta Michimura, Nobuyuki Kanda,
Zong-Hong Zhu, Hyung-Won Lee, Ray-Kuang Lee
Takahiro Yamamoto, Koji Nagano

kscboard _at_ icrr.u-tokyo.ac.jp
---
Working groups and committees in KSC
International Cooperation (May 2018 - )

(starting members) Tadayuki Tomaru, Nobuyuki Kanda, Hisaaki Shinkai
Korea contact person: Hyung-Won Lee
China contact person: Zhong-Hong Zhu
Taiwan contact person: Feng-Li Lin
Italy contact person: Helios Vocca

Author-list committee (Oct 2018 - Sep 2019)

Yosuke Itoh (Chair), Yoichi Aso, Kazuhiro Hayama, Feng-Li Lin, John J. Oh, Takashi Uchiyama
Three people are appointed by KSC Boards every year. The term is two years for each committee member.

Collaborator-list manager (Apr 2018 - Mar 2019)

Hideyuki Tagoshi (Manager), Sachiko Kuroyanagi (Vice-manager), Rie Kikuchi (Secretary)
Appointed by KSC Boards every year. A term of manager and vice-manager is one year. The vice-manager of this year will be the manager next year. Manager or vice-manager must be a scientific and permanent staff of ICRR.

Diversity Committee (Aug 2017 -)

Keiko Kokeyama, Joseph M Fedrow, Chunglee Kim, Kazuki Sakai, Hirotaka Yuzurihara, Hisaaki Shinkai
ksc-diversity _at_ icrr.u-tokyo.ac.jp
Future Planning Committee (Dec 2018 -)

Sadakazu Haino(Chair), Chunglee Kim, Kentaro Komori, Yuta Michimura, Matteo Leonardi, Atsushi Nishizawa, Kentaro Somiya(PRDC chair)
ksc-fpc _at_ icrr.u-tokyo.ac.jp
Project R&D Committee (Dec 2018 -)

Kentaro Somiya (Chair), Yousuke Itoh, Shinji Miyoki, and Sadakazu Haino(FPC Chair)
kagra-prdc _at_ icrr.u-tokyo.ac.jp
Working groups in KSC
Preparing team of Joint Observations with LIGO/Virgo (2018)

discuss data-transfer and data-analysis: Nobuyuki Kanda and Hideyuki Tagoshi
discuss MOU: Hisaaki Shinkai

MOU WG: Masaki Ando, Kipp Cannon, Yousuke Itoh, Shinji Miyoki, Masatake Ohashi, Takayuki Tomaru

"KAGRA spokesperson" for the access to the restricted documents in LIGO DCC: Hisaaki Shinkai
discuss the KAGRA members' access to LIGO documents: Hirotaka Takahashi
Joint Run Planning Committee: Shinji Miyoki and Yousuke Itoh

Paper writing team of bKAGRA phase-1 (2018)

Nobuyuki Kanda, Sadakazu Haino, Yuta Michimura, Yamamoto Takahiro, Tomo Akutsu, and Hisaaki Shinkai

Paper writing team of the revision of the scenario paper (2018)

Sadakazu Haino (writer)
Masaki Ando, Kipp Cannon (referees)

Working group for the author list policy in CPC rules (Feb 2016 - until solution)

Hideyuki Tagoshi (Chair), Hyung Mok Lee, Ayaka Shoda
From EO: Raffaele Flaminio, Nobuyuki Kanda

Working group for the definition of KAGRA data (Feb 2016 - until solution)

Hirotaka Takahashi (Chair), John J. Oh, Sadakazu Haino
From EO: Fusakazu Matsushima, Toshikazu Suzuki, Nobuyuki Kanda
Completed committees
KSC board

(Aug 2016 - Aug 2017) Nobuyuki Kanda (Chair), Hyung Mok Lee (Vice Chair), Youichi Aso, Yousuke Itoh, Keiko Kokeyama, Yuta Michimura
(Aug 2017 - Aug 2018) Hisaaki Shinkai (Chair), Chunglee Kim, Sadakazu Haino, Yuta Michimura, Nobuyuki Kanda, Yuki Inoue, Kentaro Komori

Author list committee

(Sep 2016 - Aug 2017) Masaki Ando (Chair), Shinji Miyoki, Ken-ichi Oohara, Yoshiki Moriwaki, Hyung Mok Lee, Nobuyuki Kawai
(Oct 2017 - Sep 2018) Hisaaki Shinkai (Chair), Yosuke Itoh, Hyung-Mok Lee, Feng-Li Lin, Yoshiki Moriwaki, Takashi Uchiyama

Collaborator list manager

(Apr 2017 - Mar 2018) Ken-ichi Nakao (Manager), Hideyuki Tagoshi(Vice-manager), Rie Kikuchi(Secretary)

Committee for the KSC board election rules

(Feb 2017 - Jul 2017) Keiko Kokeyama (Chair), Ettore Majorana, Hyung Won Lee, Atushi Nishizawa, Takaaki Yokozawa, Hiroyuki Nakano, Kazuki Sakai
KSC organization chart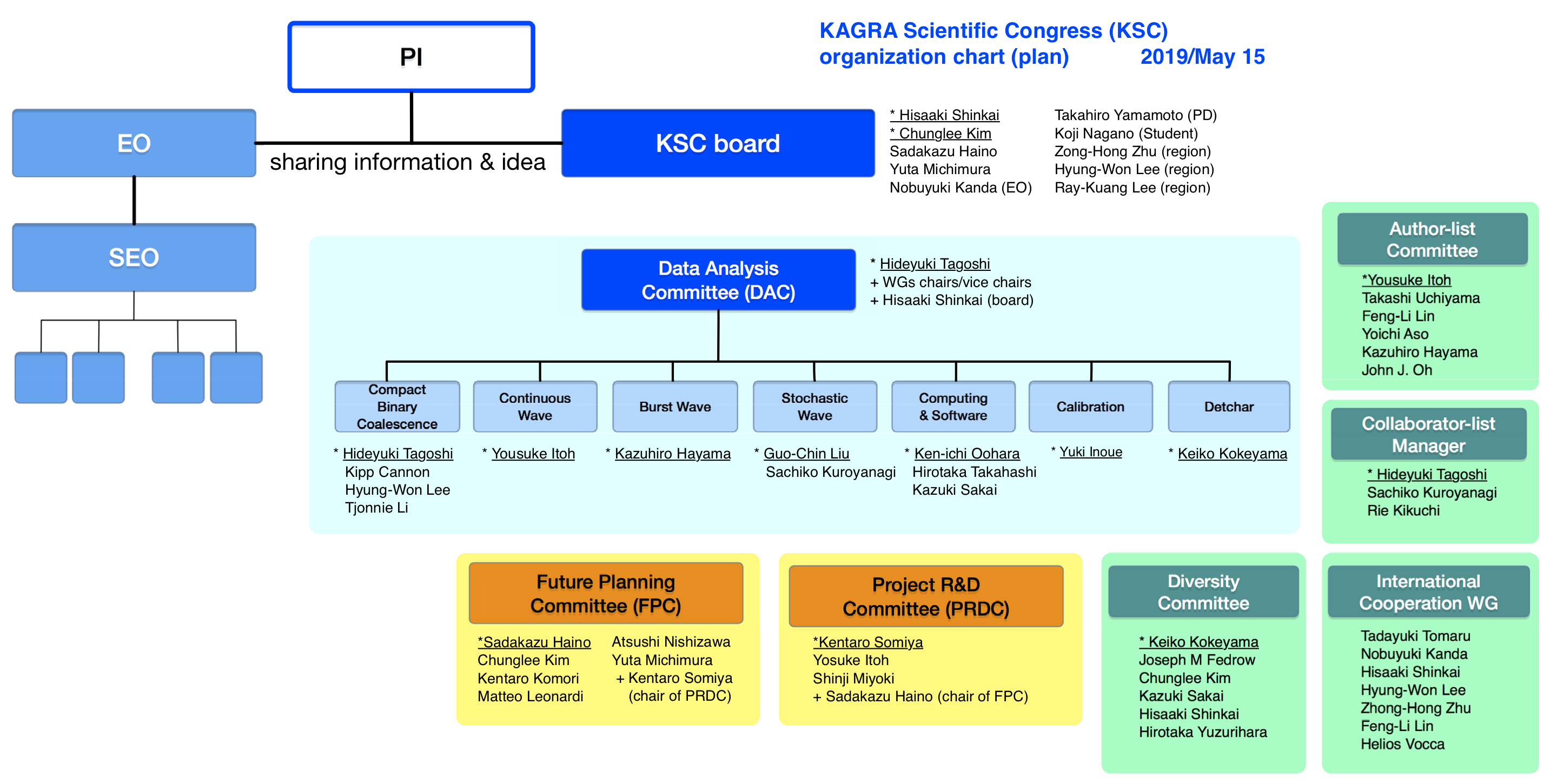 ---
Rules and Regulations
Author list is managed based on this policy by the Author List Committee of KSC

Publications and presentations are controlled based on this policy by the Committee for Publication Control (under EO)

JGW-G1706404 (useful publication category table in p.10)

JGW-G1503318 (definition of "KAGRA data" in p.4)
Rules and Regulations (KSC)
Documents
Newsletter
Collaboration Open Data
Links
KSC members
KSC members consist from representatives (faculty members) of all participating institutes/universities (groups). If one group has N>4 KAGRA collaborators, then it can register round(N/4) KSC members. Please note that KSC members are not registered automatically. Please contact to KSC_Board for updating KSC members.

Students and postdoc researchers have three slot each, and they are selected by young researchers' group every year.
KSC members have right to vote for the decision in KSC.
As of July 31, 2019, we have 106 KSC members from 63 institutes/universities.

| | | | | |
| --- | --- | --- | --- | --- |
| Affiliation1 | Affiliation2 | | | KSC member |
| Academia Sinica | Institute of Physics | Haino | Sadakazu | * |
| Aoyama Gakuin University | Department of Physics and Mathematics | Tanaka | Shuta | * |
| Aoyama Gakuin University | Department of Physics and Mathematics | Yamazaki | Ryo | * |
| Beijing Normal University | Department of Astronomy | Cao | Zhoujian | * |
| Beijing Normal University | Department of Astronomy | Gao | He | * |
| Beijing Normal University | Department of Astronomy | Zhu | Zong-Hong | * |
| California Institute of Technology | | Kumar | Rahul | * |
| Chinese Academy of Sciences | Shanghai Institute of Ceramics | Zheng | Lihe | * |
| Ewha Womans University | Department of Physics | Kim | Chunglee | * |
| Hanyang University | Department of Physics | Lee | Hyun Kyu | * |
| High Energy Accelerator Research Organization (KEK) | Applied Research Laboratory | Kimura | Nobuhiro | * |
| Hirosaki University | Department of Mathematics and Physics | Asada | Hideki | * |
| Hiroshima University | Department of Physical Science | Kojima | Yasufumi | * |
| Hosei University | Graduate School of Science and Engineering | Sato | Shuichi | * |
| Industrial Technology Research Institute | Center for Measurement Standards | Chen | Sheng-Jui | * |
| Inje University | Department of Computer Simulation | Lee | Hyung Won | * |
| Institute of Space and Astronautical Science (JAXA) | | Izumi | Kiwamu | * |
| Kavli Institute for the Physics and Mathematics of the Universe (IPMU) | | Sasaki | Misao | * |
| Keio University | Graduated School of Science and Technology/Institute for Quantum Studies, Chapman University Affiliated Scholar | Shikano | Yutaka | * |
| Korea Astronomy and Space Science Institute (KASI) | | Lee | Hyung Mok | * |
| Korea Institute of Science and Technology Information (KISTI) | | Kang | Gungwon | * |
| Korea University | Department of Physics | Yoon | Tai Hyun | * |
| Kunsan National University | Department of Physics | Kim | Sang Pyo | * |
| Kyoto University | Department of Physics | Tanaka | Takahiro | * |
| Kyoto University | Department of Physics | Seto | Naoki | * |
| Kyoto University | Department of Physics | Kyutoku | Koutarou | * |
| Kyoto University | Yukawa Institute for Theoretical Physics (YITP) | Ioka | Kunihito | * |
| Laboratoire d'Annecy de Physique des Particules (LAPP) | Univ. Grenoble Alpes | Flaminio | Raffaele | * |
| Nagaoka University of Technology | Department of Information \& Management Systems Engineering | Takahashi | Hirotaka | * |
| Nagoya University | Institute for Advanced Research | Kuroyanagi | Sachiko | pd |
| National Applied Research Laboratories | National Center for High-performance computing | Lin | Chun-Yu | * |
| National Astronomical Observatory of Japan (NAOJ) | Gravitational Wave Project Office | Takahashi | Ryutaro | * |
| National Astronomical Observatory of Japan (NAOJ) | Gravitational Wave Project Office | Akutsu | Tomotada | * |
| National Astronomical Observatory of Japan (NAOJ) | Gravitational Wave Project Office | Zeidler | Simon | * |
| National Astronomical Observatory of Japan (NAOJ) | Gravitational Wave Project Office | Hirata | Naoatsu | * |
| National Astronomical Observatory of Japan (NAOJ) | Gravitational Wave Project Office | Tomaru | Takayuki | * |
| National Astronomical Observatory of Japan (NAOJ) | Gravitational Wave Project Office | Tanioka | Satoshi | st |
| National Astronomical Observatory of Japan (NAOJ) | Kamioka Branch | Aso | Yoichi | * |
| National Astronomical Observatory of Japan (NAOJ) | Kamioka Branch | Kozakai | Chihiro | pd |
| National Defense Academy of Japan | Department of Communications | Uehara | Tomoyuki | * |
| National Institute for Mathematical Sciences | | Oh | John | * |
| National Institute of Advanced Industrial Science and Technology | National Metrology Institute of Japan | Telada | Souichi | * |
| National Institute of Information and Communications Technology (NICT) | The Applied Electromagnetic Research Institute | Nagano | Shigeo | * |
| National Taiwan Normal University | Department of Physics | Lin | Feng-Li | * |
| National Tsing Hua University | Department of Physics and Institute of Astronomy | Kong | Albert | * |
| National Tsing Hua University | Department of Physics and Institute of Astronomy | Lee | Ray-Kuang | * |
| National Tsing Hua University | Department of Physics and Institute of Astronomy | Pan | Kuo-Chuan | * |
| Niigata University | Faculty of Engineering | Sato | Takashi | * |
| Niigata University | Faculty of Engineering | Ohkawa | Masashi | * |
| Niigata University | Graduate School of Science and Technology | Oohara | Ken-ichi | * |
| Osaka City University | Graduate School of Science, Nambu Yoichiro Institute of Theoretical and Experimental Physics (NITEP) | Itoh | Yousuke | * |
| Osaka City University | Graduate School of Science, Nambu Yoichiro Institute of Theoretical and Experimental Physics (NITEP) | Kanda | Nobuyuki | * |
| Osaka City University | Graduate School of Science, Nambu Yoichiro Institute of Theoretical and Experimental Physics (NITEP) | Nakao | Ken-ichi | * |
| Osaka Institute of Technology | Faculty of Information Science and Technology | Shinkai | Hisaaki | * |
| Osaka University | Department of Earth and Space Science, Graduate School of Science | Baiotti | Luca | * |
| Peking University | Kavli Institute for Astronomy and Astrophysics | Shao | Lijing | * |
| Pusan National University | Department of Physics | Lee | Chang-Hwan | * |
| Ryukoku University | Faculty of Law | Nakano | Hiroyuki | * |
| Sapienza University | Istituto Nazionale di Fisica Nucleare (INFN) | Majorana | Ettore | * |
| Sejong University | Department of Physics and Astronomy | van Putten | Maurice | * |
| Shanghai Astronomical Observatory | Chinese Academy of Sciences | Han | Wenbiao | * |
| Shanghai Normal University | Shanghai United Center for Astrophysics | Zhai | Xiang-hua | * |
| Tamkang University | Department of Physics | Liu | Guo Chin | * |
| Tamkang University | Department of Physics | Chen | Chian-Shu | * |
| The Institute of Statistical Mathematics | Department of Mathematical Analysis and Statistical Inference | Mano | Shuhei | * |
| The University of Tokyo | Department of Physics | Enomoto | Yutaro | * |
| The University of Tokyo | Department of Physics | Ando | Masaki | * |
| The University of Tokyo | Department of Physics | Michimura | Yuta | * |
| The University of Tokyo | Department of Physics | Shimoda | Tomofumi | * |
| The University of Tokyo | Earthquake Research Institute | Araya | Akito | * |
| The University of Tokyo | Institute for Cosmic Ray Research (ICRR) | Kajita | Takaaki | PI |
| The University of Tokyo | Institute for Cosmic Ray Research (ICRR), KAGRA Observatory | Ohashi | Masatake | * |
| The University of Tokyo | Institute for Cosmic Ray Research (ICRR), KAGRA Observatory | Miyoki | Shinji | * |
| The University of Tokyo | Institute for Cosmic Ray Research (ICRR), KAGRA Observatory | Uchiyama | Takashi | * |
| The University of Tokyo | Institute for Cosmic Ray Research (ICRR), KAGRA Observatory | Miyakawa | Osamu | * |
| The University of Tokyo | Institute for Cosmic Ray Research (ICRR), KAGRA Observatory | Saito | Yoshio | * |
| The University of Tokyo | Institute for Cosmic Ray Research (ICRR), KAGRA Observatory | Kokeyama | Keiko | * |
| The University of Tokyo | Institute for Cosmic Ray Research (ICRR), KAGRA Observatory | Nagano | Koji | st |
| The University of Tokyo | Institute for Cosmic Ray Research (ICRR), KAGRA Observatory | Suzuki | Toshikazu | * |
| The University of Tokyo | Institute for Cosmic Ray Research (ICRR), KAGRA Observatory | Ushiba | Takafumi | * |
| The University of Tokyo | Institute for Cosmic Ray Research (ICRR), KAGRA Observatory | Yokozawa | Takaaki | * |
| The University of Tokyo | Institute for Cosmic Ray Research (ICRR), KAGRA Observatory | Yamamoto | Takahiro | pd |
| The University of Tokyo | Institute for Cosmic Ray Research (ICRR), KAGRA Observatory | Kawaguchi | Kyohei | * |
| The University of Tokyo | Institute for Photon Science and Technology | Mio | Norikatsu | * |
| The University of Tokyo | Research Center for the Early Universe (RESCEU) | Yokoyama | Jun'ichi | * |
| The University of Tokyo | Research Center for the Early Universe (RESCEU) | Morisaki | Soichiro | st |
| The University of Tokyo | Research Center for the Early Universe (RESCEU) | Nishizawa | Atsushi | * |
| The University of Tokyo | Research Center for the Early Universe (RESCEU) | Cannon | Kipp | * |
| Toho University | Faculty of Science | Sekiguchi | Yuichiro | * |
| Tokyo Institute of Technology | Graduate School of Science and Technology | Kawai | Nobuyuki | * |
| Tokyo Institute of Technology | Graduate School of Science and Technology | Somiya | Kentaro | * |
| Tsinghua University | Research Institute of Information Technology | Cao | Junwei | * |
| Ulsan National Institute of Science and Technology (UNIST) | Department of Physics, School of Natural Science | Lin | Chun-Che (Lupin) | * |
| Ulsan National Institute of Science and Technology (UNIST) | Department of Physics, School of Natural Science | Kwak | Kyujin | * |
| University of Electro-Communications | Institute for Laser Science | Musha | Mitsuru | * |
| University of Notre Dame | Department of Physics | Nguyen Quynh | Lan | * |
| University of Perugia | Istituto Nazionale di Fisica Nucleare | Vocca | Helios | * |
| University of Salerno | Department of Electronic and Information Engineering | Longo | Maurizio | * |
| University of Sannio | Department of Engineering | Pinto | Innocenzo | * |
| University of Toyama | Department of Physics | Yamamoto | Kazuhiro | * |
| University of Toyama | Department of Physics | Matsushima | Fusakazu | * |
| University of Toyama | Department of Physics | Moriwaki | Yoshiki | * |
| University of Toyama | Department of Physics | Kakizaki | Mitsuru | * |
| Wuhan Institute of Physics and Mathematics (WIPM), Chinese Academy of Sciences | State Key Laboratory of Magnetic Resonance and Atomic and Molecular Physics | Wang | Jin | * |
| Wuhan Institute of Physics and Mathematics (WIPM), Chinese Academy of Sciences | State Key Laboratory of Magnetic Resonance and Atomic and Molecular Physics | Gao | Dongfeng | * |
| Wuhan University | School of Physics and Technology | Fan | Xilong | * |
---