Differences between revisions 4 and 5
| | |
| --- | --- |
| | |
| Deletions are marked like this. | Additions are marked like this. |
| Line 15: | Line 15: |
| | Note that the arm cavity g-factor is assumed to be negative (1.5km-1.9km), which usually gives slightly smaller beam sizes on the PRM. |
Layout related issues
Location of PR2 tank
Is it possible to put the PR2 and SR2 vacuum chambers further away from the BS chamber ? The minimum separation is 2.7m (center-to-center). However, in order to improve the workability around the BS chamber, we want increase the separation.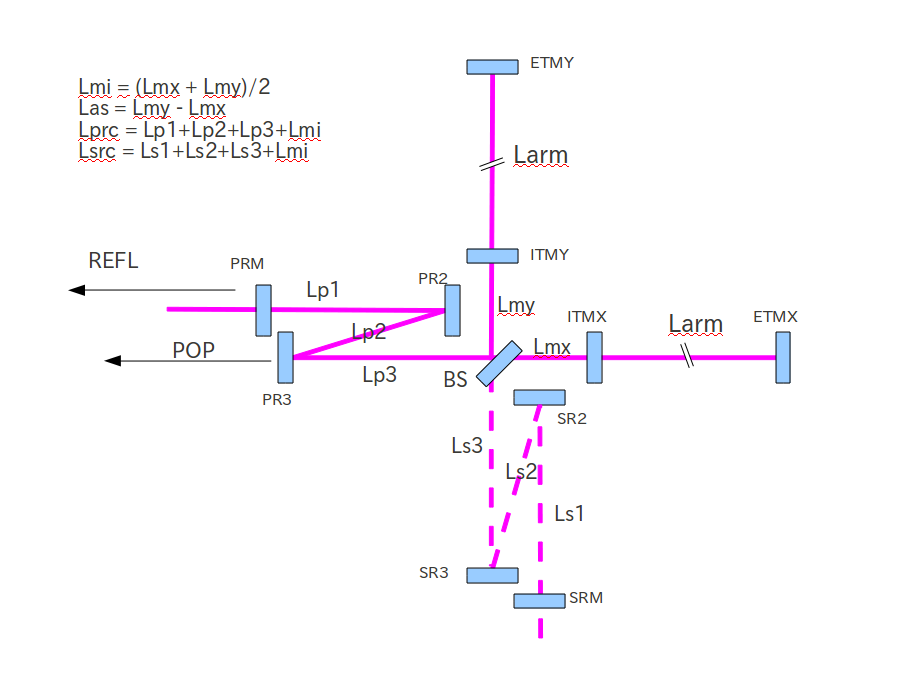 Comparison Table
L_BS_PR2 is the separation between the center of BS chamber and the center of PR2 chamber. The following table shows the the Folding parameters with three different cases of L_BS_PR2. Case 1 is the default plan. Case 2 adds 2m to the BS-PR2 separation, and Case 3 adds 3m.
Note that the arm cavity g-factor is assumed to be negative (1.5km-1.9km), which usually gives slightly smaller beam sizes on the PRM.
| | | | | | | | | | | | |
| --- | --- | --- | --- | --- | --- | --- | --- | --- | --- | --- | --- |
| | L_BS_PR2 | Folding Angle | Lp1 | Lp2 | Lp3 | PRM ROC | PRM Beam Size | PR2 ROC | PR2 Beam Size | PR3 ROC | PR3 Beam Size |
| Case 1 | 2.7m | 0.63deg | 14.76m | 12.07m | 14.76m | 310.42m | 4.05mm | -3.13m | 4.05mm | 27.01m | 35.43mm |
| Case 2 | 4.7m | 0.67deg | 14.09m | 11.40m | 16.10m | 295.3m | 3.95mm | -2.88m | 3.95mm | 25.45m | 35.46mm |
| Case 3 | 5.7m | 0.69deg | 13.76m | 11.06m | 16.76m | 287.75m | 3.91mm | -2.75m | 3.91mm | 24.67m | 35.48mm |