Noise Budgetter
Users manual
It plots DARM displacement signal from K1:CAL-CS_PROC_DARM_DISPLACEMENT_DQ, i.e. it plots PROC_DARM*(dewhitening filter).
Management commands

k1script1> sudo supervisorctl start noiseb   # <- Start NoiseBudgetter
k1script1> sudo supervisorctl stop noiseb    # <- Stop NoiseBudgetter
k1script1> sudo supervisorctl restart nosieb # <- Restart NoiseBudgetter
k1script1> sudo supervisorctl status noiseb  # <- Check run status
k1script1> sudo supervisorctl tail noiseb    # <- Check error log
Trouble shooting
If NoiseBudgetter returns some error, please check application processes on k1script1.

Running only 2 processes is the correct situation.

k1script1> ps -ef | grep [m]anage
controls  1223   771  0 Jan29 ?        00:00:00 python3 manage.py runserver 0.0.0.0:8000
controls  1343  1223 11 Jan29 ?        2-21:58:41 /home/controls/miniconda3/envs/noiseb/bin/python3 manage.py runserver 0.0.0.0:8000

If more than 2 processes are running, please kill all once and relaunch.

k1script1> sudo supervisorctl stop noiseb
k1script1> pkill -KILL manage.py
k1script1> sudo supervisorctl start noiseb
Developers' manual
Currently running on k1script1 k1ctr7 (because k1ctr7 has the vertual environment.)

The server is running in the environment 'noiseb'. 'django-env.'

The scripts are in /users/yuzu/noiseb/DjangoApp /kagra/Dropbox/Personal/Shoda/src/AppTest/

The code is uploaded on github.
Software management
Noise Budgetter is managed by supervisord on k1script1. Basically, applications managed by supervisor are automatically launched when k1script1 boots up and they are automatically re-launched when they hang up.
If you update NoiseBudgetter code, please restart the process by following command.

  k1script1> sudo supervisorctl restart noiseb

Configuration file for supervisord (Maybe it is not needed to touch for many people.)

  k1script1> cat /etc/supervisor/conf.d/noiseb.conf
  [program:noiseb]
  user=controls
  directory=/users/yuzu/noiseb/DjangoApp
  command=bash -c 'source /kagra/apps/etc/conda3-user-env_deb10.sh && conda activate noiseb && python3 manage.py runserver  0.0.0.0:8000'
  autorestart=true
  autostart=true
  redirect_stderr=true
  stdout_logfile=/tmp/superv_noiseb.log
What's new
Sum of the all noise will be plotted together. (2019/11/12)
---
Old information
Users manual
It plots DARM displacement signal from K1:CAL-CS_PROC_DARM_DISPLACEMENT_DQ, i.e. it plots PROC_DARM*(dewhitening filter).
If crashed, go to k1ctr7 and run from a button on the medm screen or commands below:
Button: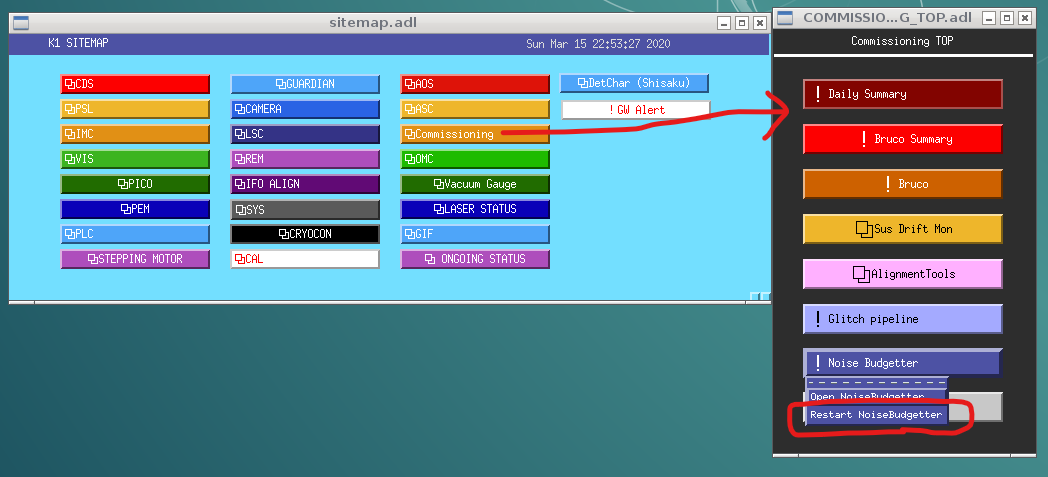 Commands:
> ssh k1ctr7
> conda activate django-env
> cd /kagra/Dropbox/Personal/Shoda/src/AppTest/
> nohup python manage.py runserver 0.0.0.0:8000 > nohup.out &
Hints
If you cannot observe any update on the plot even after you click the 'plot' button, please wait a moment and reload the top page (click the top left icon labeled 'NoiseBudgetter').