Agenda/Minutes on 2021/2/19
CRY+VIS Interface Meeting
13:30-14:10
Participants: Takahashi, Miyo, Aso, Sato, Hirata, Ikeda, Ushiba, Tomaru
Schedule for IX: Released on 2/18. BF was overload.
Schedule for IY: Disconnection is scheduled on 3/11.
Schedule for EX: Connection is scheduled in the week of 3/15.
Corrugate tube fixing jig: Re-measurement is planed in 2/26-3/1 at IYV.
Commissioning in air: Commissioning of IX will be started. Other schedule has not been decided yet.
Commissioning in vacuum:
Acceptance check: Cryo-payload in IX/EX and Type-A tower in EY/IX are on going.
PF actuator: Not evaluated in IX, but after the commissioning for suspension.
Jig for FC painting: Assembling.
Overall commissioning: To be considered about personnel.
VIS Meeting
14:00-15:00
Participants: Takahashi, Miyo, Aso, Sato, Hirata, Ikeda, Ishizaki, Sugiyama, Terrence, Fabian, Tanaka
Progress report
Schedule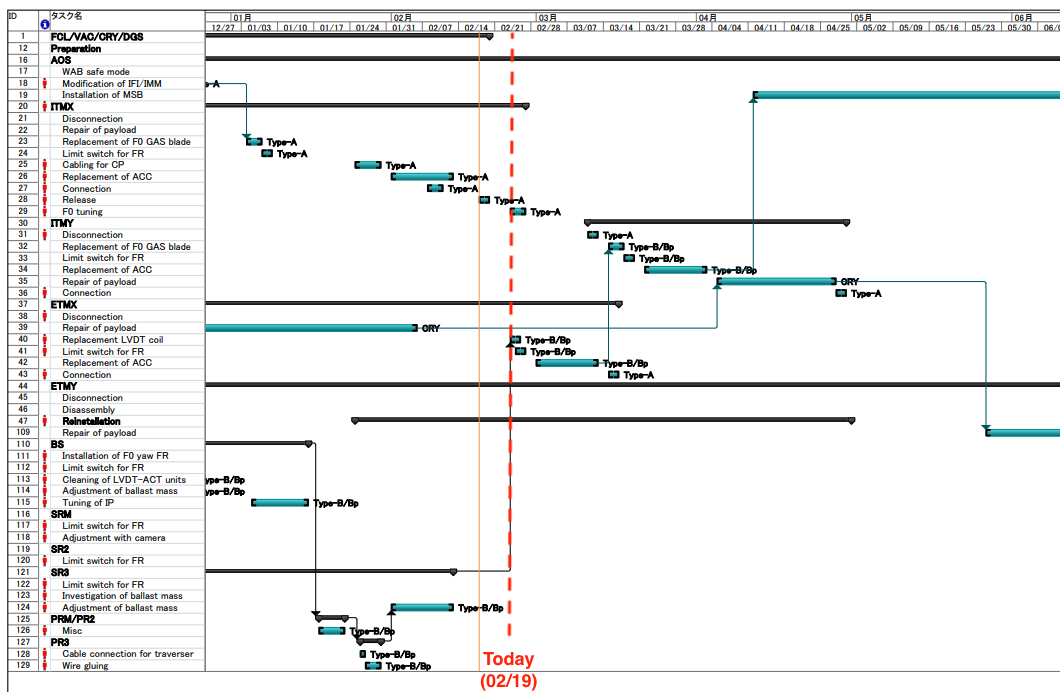 General
General
Summary:
[Ikeda] Investigation of the cable length for network cable and temperature control in center are was done. Investigation for both end station was not. [1,2]
[Miyo] Automation script to make the foton files was made[3]. In this week I reproduce the OSEMINF foton file for all Type-Bp suspension by suing the script. This script will help us to avoid human error.
klog:
16036 Cabling for temperature control equipment , satoru.ikeda
Type-C
MCF Summary:
16041 Recovery of IMC suspension , ryutaro.takahashi
Type-A
EY Summary:
15993 Setup of F2 , ryutaro.takahashi
IX Summary:
16055 Setup of BF with the released cryo-payload , ryutaro.takahashi
Type-Bp
PR2
Summary: [Miyo] I connected the cables for PRM minirack because these had been disconnected from Fujimi-sangyo clean work.
16054 PR2 minirack is moved to 2nd floor , kouseki.miyo
PR3 Summary:
Type-Bp
After the release of the jammed picomotor, Ikeda-san moved back the sliding mass but he was unable to recover the same orientation of the IM according to the OSEMs. Pitch and were ended up with different values.
The transfer functions showed an unhealthy system.
Before doing visual inspection of the IM I moved IM-Y to zero from 1.78 mrad. However, while opening the chamber (cloth covers) it moved to about -500 urad. Moreover, during subsequent work it went to -2.3 mrad and it's been stable there.
A few OSEM flags seem to be touching the OSEM bodies. Their positions are consistent with the large amount of yaw measured.
About cables:

Cables from the IM touch cables from the IM. (Lilkely not good but not too bad.)
Cables from the IRM touch cables from the IRM. (Lilkely not good but not too bad.)
A cable from the BF is touching the BF Damper.
A cable from the BF Damper is touching the security structure before it's clamping point on the security structure.
We provided more slack to those cables by improvising a additional clamping point on the securuty structure. This might have improved the situation of H1 OSEM flag but it did not solve the overall problem.
There are some cables which are dangerously close to touching other cables.

Today we assesed again the position of the OSEM flags.
What do do?

Maybe we should move the BF picomotor again.
Adjust the tilt of BF by putting temporary ballast masses (in places yet to be decided) to see if the IM is released.
Move OSEM panels?

15976 Picomotor of PR3_BF_T(Motor2) got stuck , satoru.ikeda
PRM Summary:
16048 Operation check of Picomotor of PRM IM and BF , satoru.ikeda
Type-B
SR3 Summary:
16007 Ballast mass adjustment on top of BF , fabian.arellano
Electronics (Tanaka)
New combiner circuit was delivered to Kamioka. It should be evaluated at the site.
Control (Miyo)
Towards O4
Type-B/Bp remedy work is on going.
Installation of Type-A is on going in EY.
Schedule.
Procedure documents.
Criteria in the acceptance test.
Safety
Discussion
When will we do the recovering work for type-Bp suspensions?: Type-B team can go back to Type-Bp suspension after the work in EX.
Cabling style of the thermisteos is reviewed by SEO?: Ask Miyoki-san.
Travel Plans
The week from 2/22
Takahashi: 2/23-2/28
Sato: 2/23-26
Hirata: 2/23-26
Yano: 2/23-26
The week from 3/1
Takahashi: 3/1-5
Sato: 3/1-5
Hirata: 3/1-5
Yano: 3/1-5
Next meeting