KAGRA Wiki
---
News
The 21st Face to Face Meeting Dec 5 (Wed) - 6 (Thurs), 2018 @ NAOJ, Mitaka, Tokyo

Registration page -- Registration page is open! Deadline is November 22 (Thur), 23:59 JST.

Registration was closed. We have 103 participants.

Satellite meeting on R&D will be held at NAOJ on December 4. Registration is made separately.

Satellite meeting on data analysis will be held at ICRR, Kashiwa on December 7. Registration is made separately.

The 5th KAGRA International workshop: 2019 Feb 14 (Thur.) - 16 (Sat) at University of Perugia, Perugia, Italy

The last day is the 1st KAGRA-Virgo-3G Detectors Workshop

The important deadlines are:

Registration : February 5, 2019
Oral presentation submission: January 13, 2019
Poster submission: January 27, 2019
* Registration page -- Registration page is open! /* * Registration deadline is August 7(Tue) 23:59 JST for the registration with FREE(maybe) banquet, August 16 (Thur) 23:59 JST without banquet.
---
KAGRA Scientific Congress (KSC)
---
Site information
How to work at the KAGRA site?
Publication Policy
Technical information
---
Subsystems
* Some of the activities in the mine by NAOJ group are reported on NAOJ test alog.
---
Target Sensitivity of bKAGRA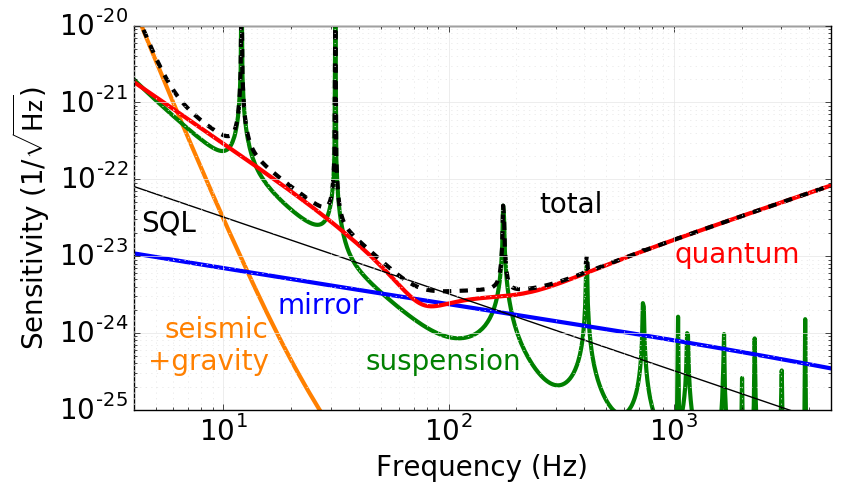 ---
KAGRA Documents
Others