Differences between revisions 565 and 568 (spanning 3 versions)
Deletions are marked like this.

Additions are marked like this.

Line 42:
Line 42:
||<#F0F0FF>'''Meetings''' ||[[KAGRA/Meeting/Collaboration|KAGRA collaboration meeting]] <<BR>> [[KAGRA/Meeting/F2F|KAGRA f2f meeting]] <<BR>> [[KAGRA/Meeting/KIW|KAGRA International Workshop]] <<BR>> [[http://gwclio.icrr.u-tokyo.ac.jp/lcgtchief/|Chief Meeting blog]] ([[KAGRA/Meeting/Chief|Old Chief Meeting]]) <<BR>> [[KAGRA/Meeting/Reviews|Reviews]]<<BR>> [[LCGT/ELiTES|ET-KAGRA collaboration (ELiTES)]] <<BR>> [[KAGRA/Meetings/events|Related events]] ||<#F0F0FF>'''Documents'''<<BR>>'''/Information''' ||

[[http

://

klog

.icrr.u-tokyo.ac.jp/osl/|KAGRA log]] (klog) <<BR>> [[http://gwdoc.icrr.u-tokyo.ac.jp/|JGWDoc]]<<BR>>[[https://dac.icrr.u-tokyo.ac.jp/|KAGRA DAC wiki]] <<BR>>[[KAGRA/DesignDocumentTree|KAGRA Design Document Tree]] <<BR>> [[http://gwclio.icrr.u-tokyo.ac.jp/lcgtsubgroup/|Blogs]]<<BR>> [[https://granite.phys.s.u-tokyo.ac.jp/svn/LCGT/trunk/|SVN]]<<BR>>[[http://172.16.33.20/bugzilla/|Bugzilla]] -- issue tracker (internal only)<<BR>> [[KAGRA/MOU|MOU]]<<BR>> [[KAGRA/Terminology|Terminology]]<<BR>>[[KAGRA/Publications|Publications]] <<BR>> [[https://gwdoc.icrr.u-tokyo.ac.jp/cgi-bin/private/DocDB/ShowDocument?docid=8205|Collaboration Member list]]<<BR>>[[http://gwwiki.icrr.u-tokyo.ac.jp/JGWwiki/KAGRA/Operation/Manuals|Operation Manuals]]<<BR>>[[KAGRA/Reports|KAGRA reports]] <<BR>> [[https://docs.google.com/spreadsheets/d/1-331CXNdqTQIudQyCTs0Eh7lumGVoY66L8XcAlNUro4/edit#gid=0/|KAGRA Daily Morning Meeting]] <<BR>> ||
||<#F0F0FF>'''Task management''' ||[[KAGRA/Subgroups/SiteShift|Site Shift schedule]]<<BR>>[[https://gwdoc.icrr.u-tokyo.ac.jp/cgi-bin/private/DocDB/ShowDocument?docid=6715|KAGRA organization chart]]<<BR>> [[http://gwlcgt.icrr.u-tokyo.ac.jp:13013/pwa|Project Chart page]]<<BR>> Reservation for the[[http://www.supersaas.jp/schedule/KoachFilter/Koach_Filter|KoachFilters]] ||<#F0F0FF>'''Tools''' ||How to upload documents to JGWDoc ([[JGWDoc/HowTo/UpLoad|Japanese]], [[JGWDoc/HowTo/UpLoadE|English]])<<BR>> How to use [[LCGT/SVN|SVN]]<<BR>> How to

join [[KAGRA/Tools/MailingLists|Mailing lists]]

<<BR>> How to

use this JGW wi

k

i ([[newusers|Japanese]], [[newusersE|English]])

<<BR>> How to

start using [[kloghelp|klog]]<<BR>> How to

use [[RemoteParticipation|Remote participation tools]] ||
||<#F0F0FF>'''Meetings''' ||[[KAGRA/Meeting/Collaboration|KAGRA collaboration meeting]] <<BR>> [[KAGRA/Meeting/F2F|KAGRA f2f meeting]] <<BR>> [[KAGRA/Meeting/KIW|KAGRA International Workshop]] <<BR>> [[http://gwclio.icrr.u-tokyo.ac.jp/lcgtchief/|Chief Meeting blog]] ([[KAGRA/Meeting/Chief|Old Chief Meeting]]) <<BR>> [[KAGRA/Meeting/Reviews|Reviews]]<<BR>> [[LCGT/ELiTES|ET-KAGRA collaboration (ELiTES)]] <<BR>> [[KAGRA/Meetings/events|Related events]] ||<#F0F0FF>'''Documents'''<<BR>>'''/Information''' ||

[[https

://

gwdoc

.icrr.u-tokyo.ac.jp/

cgi-bin/private/DocDB/ShowDocument?docid=12137|Summary of various KAGRA accounts]] <<BR>> [[https://gwdoc.icrr.u-tokyo.ac.jp/cgi-bin/private/DocDB/ShowDocument?docid=12150|Mailing lists]] <<BR>>[[http://klog.icrr.u-tokyo.ac.jp/

osl/|KAGRA log]] (klog) <<BR>> [[http://gwdoc.icrr.u-tokyo.ac.jp/|JGWDoc]]<<BR>>[[https://dac.icrr.u-tokyo.ac.jp/|KAGRA DAC wiki]] <<BR>>

[[KAGRA/DesignDocumentTree|KAGRA Design Document Tree]] <<BR>> [[http://gwclio.icrr.u-tokyo.ac.jp/lcgtsubgroup/|Blogs]]<<BR>> [[https://granite.phys.s.u-tokyo.ac.jp/svn/LCGT/trunk/|SVN]]<<BR>>[[http://172.16.33.20/bugzilla/|Bugzilla]] -- issue tracker (internal only)<<BR>> [[KAGRA/MOU|MOU]]<<BR>> [[KAGRA/Terminology|Terminology]]<<BR>>[[KAGRA/Publications|Publications]] <<BR>> [[https://gwdoc.icrr.u-tokyo.ac.jp/cgi-bin/private/DocDB/ShowDocument?docid=8205|Collaboration Member list]]<<BR>>[[http://gwwiki.icrr.u-tokyo.ac.jp/JGWwiki/KAGRA/Operation/Manuals|Operation Manuals]]<<BR>>[[KAGRA/Reports|KAGRA reports]] <<BR>> [[https://docs.google.com/spreadsheets/d/1-331CXNdqTQIudQyCTs0Eh7lumGVoY66L8XcAlNUro4/edit#gid=0/|KAGRA Daily Morning Meeting]] <<BR>> ||
||<#F0F0FF>'''Task management''' ||[[KAGRA/Subgroups/SiteShift|Site Shift schedule]]<<BR>>[[https://gwdoc.icrr.u-tokyo.ac.jp/cgi-bin/private/DocDB/ShowDocument?docid=6715|KAGRA organization chart]]<<BR>> [[http://gwlcgt.icrr.u-tokyo.ac.jp:13013/pwa|Project Chart page]]<<BR>> Reservation for the[[http://www.supersaas.jp/schedule/KoachFilter/Koach_Filter|KoachFilters]] ||<#F0F0FF>'''Tools''' ||How to upload documents to JGWDoc ([[JGWDoc/HowTo/UpLoad|Japanese]], [[JGWDoc/HowTo/UpLoadE|English]])<<BR>> How to use [[LCGT/SVN|SVN]]<<BR>>

How to

use this JGW wiki ([[newusers|Japanese]], [[newusersE|English]])

<<BR>> How to

start using [[

k

loghelp|klog]]

<<BR>> How to use [[RemoteParticipation|Remote participation tools]] ||
Line 118:
Line 118:
* Application to enter the KAGRA mine:

[[https://docs.google.com/spreadsheets/d/1-331CXNdqTQIudQyCTs0Eh7lumGVoY66L8XcAlNUro4/edit#gid=1058953414|new system]]

[[https://gwcenter.icrr.u-tokyo.ac.jp/webinout|SAAS]]
* Application to enter the KAGRA mine: [[https://gwcenter.icrr.u-tokyo.ac.jp/webinout|SAAS]]
KAGRA Wiki
Information for researchers. For general information, please go to https://gwcenter.icrr.u-tokyo.ac.jp.
---
---
The 25th Face-to-Face meeting (in remote style) August 20 (Thur) - 22 (Sat)
News
Postponement of meetings GWADW at Hokkaido (planned in the middle of May, 2020) is postponed a year. Recent meetings KSC Remote Meeting (KSC telecon) before F2F, November 22 (Fri) 17:00 JST. See Agenda The 24th KAGRA Face-to-Face meeting: at RESCUE, 2019 December 4 (Wed) - 5 (Thur). web site The 23rd KAGRA Face-to-Face meeting: at Univ. Toyama, 2019 August 22 (Thur) - 24 (Sat). web site We had 140 participants. Thank you for your contributions. The registration page will open July 16 (Tue). deadline of registration with KAGRA-site tour : July 31, 2019 (23:59 JST) deadline of registration : August 7, 2019 (23:59 JST) See you in Toyama soon. Registration was closed. Program Advisory Committee (PAB) was held at ICRR, Kashiwa campus on May 9(Thur) to 10(Fri), 2019 The 6th KAGRA International workshop: at Wuhan, China, 2019 June 21 (Fri) - 23 (Sun). web site The important deadlines are: deadline of abstract and poster : May 20, 2019 deadline of hotel reservation : June 1, 2019 Oral presentation submission: January 13, 2019 Poster submission: January 27, 2019 ICRR's Fiscal Year 2020 Inter-University Research Program English page, Japanese page (application deadline: January 7, 2020)
---
[1] Links
---
[2] KSC contents
KSC = KAGRA Scientific Congress
KAGRA Data Analysis Working Group
---
KAGRA Documents
---
[3] Site Access information
How to work at the KAGRA site?
Technical information
---
[4] Subsystems
---
[5] Other information
Target Sensitivity of bKAGRA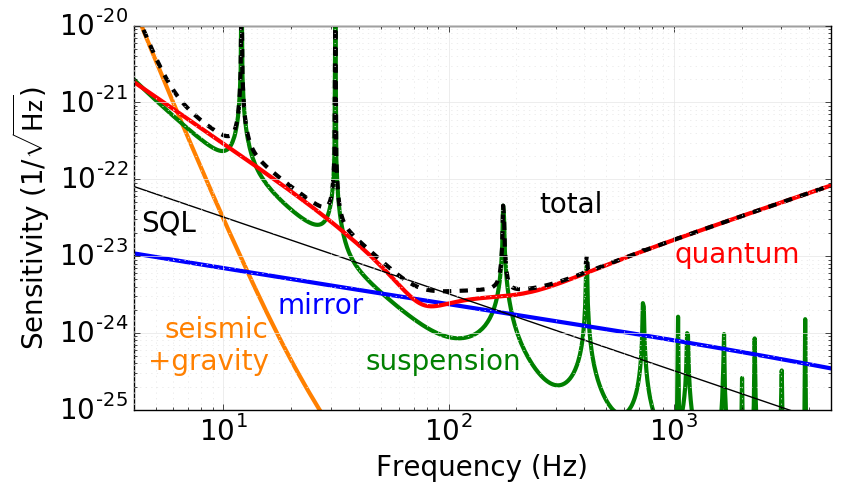 Others